Ambassador Jackson meets new Commonwealth Secretary General
| | |
| --- | --- |
| Authored by: | Bahamas Information Services |
| Source: | Bahamas Information Services |
| Date: | April 13, 2016 |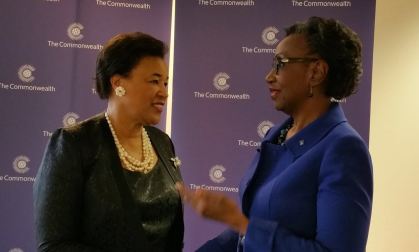 (L-R) Secretary General of the Commonwealth, the Rt. Hon. Patricia Scotland, QC and H.E. Rhoda M. Jackson, Ambassador and Permanent Representative of The Bahamas to the United Nations Office in Geneva.
The Commonwealth Small States Office in Geneva hosted a reception, on the evening of Friday, 8 April 2016, for Commonwealth country representatives to welcome the new Secretary General of the Commonwealth Secretariat, the Rt. Hon. Patricia Scotland, QC. The new Secretary General expressed her appreciation at meeting the Commonwealth Ambassadors during her first few days in office and reiterated her commitment to working together with them on issues of critical importance to the members of the Commonwealth.
The new Secretary General, in outlining her priorities which include violence against women and girls, combating climate change, trade and governance and youth, emphasized that 60% of those who make up the Commonwealth are under 30 and therefore, opportunities in education and employment should be created to equip them for the future.
Secretary General Scotland, born in Dominica and raised in London touted herself as a "classic child of the Commonwealth." She became the first woman to hold the post when appointed by the Commonwealth Heads of Governments at their meeting in Malta last November.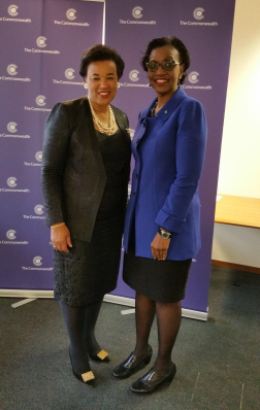 The Secretary General was in Geneva to participate in the UN Secretary-General's Geneva Conference on Preventing Violent Extremism, held 7 and 8 April and co-chaired by UN Secretary General, Ban Ki-moon and Federal Councillor Didier Burkhalter, Head of the Swiss Federal Department of Foreign Affairs. This represents the first UN meeting attended by Secretary-General Scotland in her new role.