Change the design of coastal cities says IDB specialist
| | |
| --- | --- |
| Authored by: | Kathryn Campbell |
| Source: | Bahamas Information Service |
| Date: | April 11, 2016 |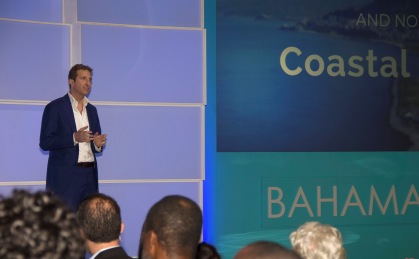 Michael Donovon, Senior Housing and Urban Development Specialist Fiscal and Municipal Management Division, Inter-American Development Bank (IDB).  (BIS Photo/Letisha Henderson)
NASSAU, The Bahamas – Community engagement, economic impact and neighborhood solutions were put forward as panaceas to improving the urban agenda of coastal cities by Michael Donovan, Senior Housing and Urban Development Specialist Fiscal and Municipal Management Division, Inter-American Development Bank (IDB).
Mr. Donovan presented on the topic "Natural Capital, Climate Change and the Future of Coastal Cities," April 8, during the IDB and Inter-American Investment Corporation 2016 meeting.
"Our challenge today is to find effective ways of improving coastal cities while at the same time improving basic services in neighborhoods that have been neglected for years," he said.
"From Singapore, to London, to Panama City we are witnessing a surge of interest in redeveloping urban waterfront areas. These are some of the most complex urban projects in the world. They involve housing, energy transportation, urban designs, sanitation, climate science and zoning."
Participants viewed photographs displayed to illustrate the point that conducting any urban project in coastal areas must be based on extensive consultation and collaboration with the community.
He affirmed that only through "comprehensive" neighborhood solutions can more resilient cities be built and inequality be reduced.
Attendants were urged not to lose sight of economic impact.
"In virtually every one of our coastal cities poverty is adjacent to luxury. It's common to see cruise liner and container ships alongside among some of the poorest, most marginalized neighborhoods in cities," he said.
"It's time for us to change the way we develop coastal cities. The population of coastal cities is growing and we cannot ignore rising sea levels."
The annual meeting of the Board of Governors of the IDB and IIC was held in Nassau, Bahamas from April 7 to 10.