Child Protection Officials Take Fight Nationally
| | |
| --- | --- |
| Authored by: | Matt Maura |
| Source: | Bahamas Information Services |
| Date: | April 28, 2016 |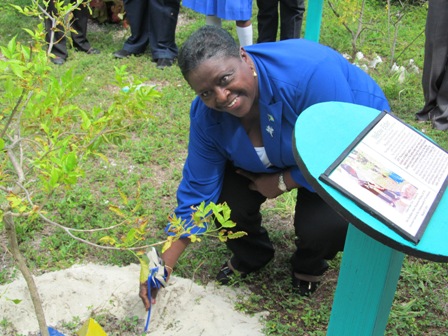 Minister of Social Services and Community Development, the Hon. Melanie S. Griffin, establishes the country's second Pinwheel Garden at the Louise McDonald High School, formerly the Bimini All-Age School in Alice Town. (BIS Photo/Matt Maura)
NASSAU, The Bahamas – Child Protection officials in New Providence continued to expand their education and awareness campaign against child abuse into the Family Islands with recent visits to Bimini, Abaco, Eleuthera and Exuma.
Additional visits are scheduled for other islands in the upcoming months.
The visits are a part of an even more aggressive approach to eradicating child abuse within the Commonwealth of The Bahamas and promoting child protection and are being facilitated by members of the National Child Protection Council (NCPC), the Department of Social Services, Ministry of Social Services and Community Development, and the Suspected Child Abuse and Neglect (SCAN) Unit of the Department of Public Health, Ministry of Health.
The tour of the Family Islands kicked off with a visit to Bimini, once considered "The Gateway to The Bahamas," where officials held town meetings and visited with students of the Bimini Primary School and the Louise McDonald High School, formerly the Bimini All-Age School.
Officials also planted the country's second Pinwheel Garden in the Nature Trail at the Louise McDonald High School. The first Pinwheel Garden was established at Government House, Mount Fitzwilliam, on April 12, 2016 by Her Excellency, Dame Marguerite Pindling.
Pinwheel Gardens have also now been established in Exuma and Abaco. Additional gardens will be established on the islands visited by child protection officials.
Minister of Social Services and Community Development, the Hon. Melanie Sharon Griffin, who led the delegation to Bimini, said the visits are all part of the measures child protection officials have put in place to further intensify their fight against child abuse.
Mrs. Griffin was accompanied to Bimini by NCPC Chairman Pastor Gil Maycock and NCPC Co-chairperson Dr. Novia Carter, a Senior Child Psychologist with the Ministry of Education, Science and Technology; Mellany Zonicle, Director, Department of Social Services, Ministry of Social Services and Community Development, along with members of the National Child Protection Council and the Department of Social Services.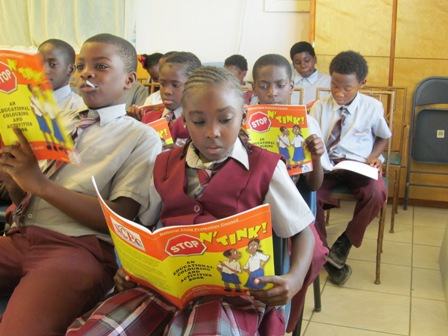 Students of the Bimini Primary School in Bailey Town, are engrossed in their copies of the "Stop n Think" Colouring Book launched in Bimini. Created and written by Dr. Novia Carter, the book teaches children how to protect themselves against child abuse. (BIS Photo/Matt Maura)
"It (Bimini) was an excellent trip as we were able to interact with the students at the primary schools and the high schools, were able to host a town meeting to address the various aspects of child abuse and also we were able to move throughout the community spreading the message," Mrs. Griffin said.
"The fight against child abuse has to be a national one. While we already have Social Workers posted throughout the islands addressing many of the issues, it was important for the team to come in from New Providence and give the various islands that extra support during this time."
Minister Griffin also officially launched the 'Stop n Think" Colouring Book, a new book created and written by Dr. Novia Carter that will be utilized to teach children the rules of child protection.
"The best part of this job for me really is interacting with the children and to be able to sit with them and talk with them. I was excited to launch our new colouring book in Bimini as it speaks to the issue of child abuse and child protection. It definitely was good for us to go through that with them, to read it with them and then to have Dr. Carter go through all of the different rules for them to note and to follow."
Pastor Gil Maycock said the fight to protect the country's children from abuse will take an "all-on-board" approach.
"We are undertaking this venture to get everybody to understand what child abuse is and what we can do to prevent it. We need every single citizen of The Bahamas onboard for us to be able to curtail or abolish abuse here in The Bahamas and so we want that message to resound throughout the islands."
Pastor Maycock said child abuse can have long-term negative impacts on Bahamian society if left unchecked.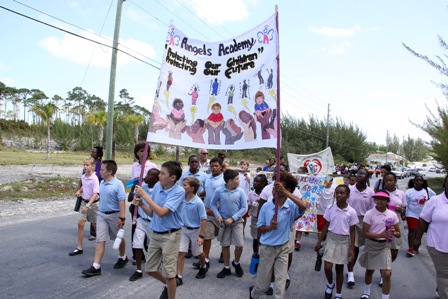 Students from Angels Academy march and rally at the Child Abuse Prevention/Child Protection Youth March and Rally held in Marsh Harbour, Abaco. (BIS Photo/Patrick Hanna)
"If we don't get this in check, we are going to pay some heavy prices in the years to come," he said. "We are going to continue to hear about cases of Bahamian families and individuals being dysfunctional, not being able to perform at 100 per cent efficiency.
"The evidence does support that if a child is harmed and consistently harmed or abused as a child, the ramifications will continue on into their adulthood and we will find a lot of persons not being able to cope on their jobs, in their relationships or even how they will handle discipline and/or parenting when they take on that role."
Pastor Maycock encouraged Bahamians everywhere to "say something if you know something."
"We are all responsible for each other. If you know somebody is hurting somebody else, if you know somebody is touching somebody the wrong way, speaking to them the wrong way, if you know somebody is doing some things sexually against a child or young person that they are not supposed to be doing, you and I are responsible for each other and we need to come together and protect each other because [it] can be very frightening going through something like sexual or physical abuse and you don't know where to go or who to talk to.
"We all need to be there for each other, to protect each other, together, as a nation," Pastor Gil said.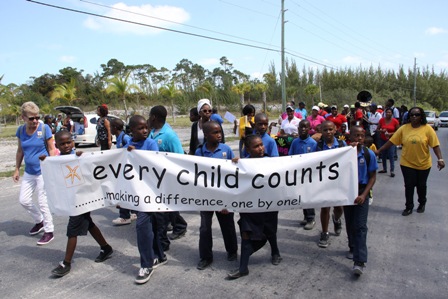 Carrying the Banner.  (BIS Photo/Patrick Hanna)