GB Minister Calls Attention to Lupus Awareness
| | |
| --- | --- |
| Authored by: | Bahamas Information Services |
| Source: | Bahamas Information Services |
| Date: | May 6, 2016 |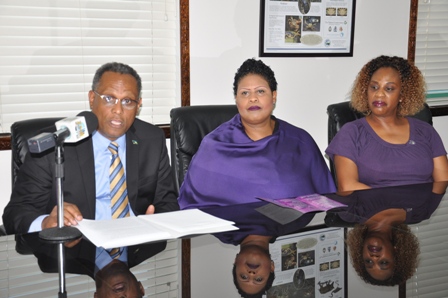 Minister for Grand Bahama, the Hon. Dr. Michael Darville, on Thursday pledged his support to members of the Lupus Bahamas Grand Bahama Committee as they celebrate Lupus Awareness Month. Residents are asked to wear purple each Friday during the Month of May in recognition. Shown from left are: Minister Darville; Caline Newton, president; and Natasha Smith, committee member.  (BIS Photo/Vandyke Hepburn)
FREEPORT, Grand Bahama — Minister for Grand Bahama, the Hon. Dr. Michael Darville, during a press conference on Thursday committed his Ministry's full support to Lupus Bahamas for May, Lupus Awareness Month, and to joining forces so as to bring about a healthier Grand Bahama.
The Lupus Bahamas Committee members, he said, are not only raising awareness, but are also offering support and assistance for families whose loved ones may have been diagnosed with the disease, and as such as the Minister for Grand Bahama, a medical doctor, a father and a member of the Grand Bahama community, he was honoured to be there.
"In 2014, Health officials confirmed that 89 cases of Lupus were diagnosed in The Bahamas over the past 10 years, with some of those cases being right here in Grand Bahama. For this reason, Lupus Bahamas, an organization whose purpose is to empower and encourage those living with Lupus, while placing priority on education and awareness throughout Grand Bahama, is an essential one."
Minister Darville encouraged residents to support the Grand Bahama team of Lupus Bahamas, as May as been internationally designated as Lupus Awareness Month.
"While the staff at the Rand Memorial Hospital and other private facilities have done much to raise awareness about Lupus and other deadly diseases, the reality remains that far too many people in this country die, for no reason other than they are too poor to stay alive and it is imperative on all of us to take action. As such, on this occasion, I wish to reiterate the Government's commitment to the people of Grand Bahama to deliver a competent, efficient and effective system of National Health Insurance for all residents."
In closing, the Minister committed that the staff at the Ministry for Grand Bahama will wear purple every Friday for the month of May in support of Lupus Awareness, and to joining forces to create a healthier Grand Bahama.
Caline Newton of the committee said they have made great strides in the community with a current membership of 11, and on April 29, in recognition of International Lupus Month, her team distributed Lupus pamphlets to the community.
A Fun Run/Walk will also be held on May 14, said Tabitha Joffe, secretary of the committee, who asked that the community support this event. She urged residents to wear purple every Friday in May.
For further information, people are asked to visit the Lupus Bahamas Facebook page.