Government Appoints ParoleRe-Entry Steering Committee
| | |
| --- | --- |
| Authored by: | Matt Maura |
| Source: | Bahamas Information Services |
| Date: | May 10, 2016 |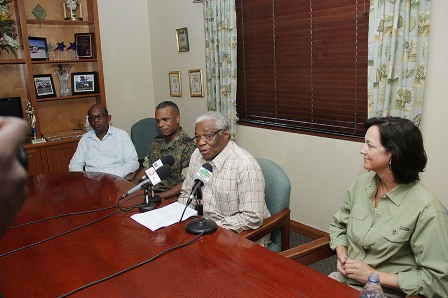 Minister of National Security the Hon. Dr. Bernard Nottage, at podium, addresses the Citizen Security and Justice Programme launch, May 9, 2016, at the British Colonial Hilton.
Dr. Nottage said a more modern and progressive correctional system – one that is not simply concerned with holding prisoners or managing them, but focused on the full development of their potential as citizens – is the answer to the aforementioned question.
"Rehabilitation starts at the moment of arrest and does not end upon release," Dr. Nottage continued. "So we must also find innovative and effective ways to continue to engage offenders after they have left the prison walls.
"This will mean partnering with, and supporting community organizations that are already in the trenches, bridging the gap between release and reintegration. This is just one of the challenges we are endeavouring to address. The task at hand weighs on all of us and the Bahamian people want results," Dr. Nottage added.
The Ministries of National Security, Social Services and Community Development, Office of the Attorney-General and Ministry of Legal Affairs and the Ministry of Labour, National Insurance and the Public Service, have and will all play key roles in the facilitation of the Programme.
"Together we represent the length and breadth of this government's comprehensive strategy to address the challenges of crime," Dr. Nottage said.
"The escalation of violent crime in The Bahamas did not happen overnight and there is no single cause for its proliferation. Whether it is the child who believes that violence s the only way to deal with conflict because of an abusive home, or the young man driven to crime because he can find no opportunity for employment, or the ex-convict who struggles to turn his life around only to be met by the stigma of incarceration, crime and our criminals are symptoms of deep and complex social and economic challenges.
"Through the intensive work of the ministries and departments represented here today and with the assistance of our partners at the Inter-American Development Bank (IDB), we have identified the underlying forces that are driving crime in our Bahamas.
"The Citizen Security and Justice Programme for which a loan of $20Million from the Inter-American development Bank has been approved, represents the single-largest investment in a coordinated and comprehensive policy to address crime," Dr. Nottage added.