Lessons of the Basketball Court Can Apply to Life, says Minister Wilchcombe
| | |
| --- | --- |
| Authored by: | Eric Rose |
| Source: | Bahamas Information Services |
| Date: | May 2, 2016 |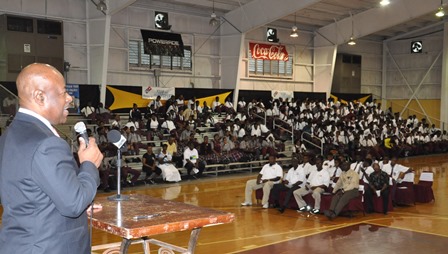 Minister of Tourism the Hon. Obie Wilchcombe speaks to students at St. George's High School, April 29, 2016, during the school's Sports Awards Ceremony.  (BIS Photo/Vandyke Hepburn)
FREEPORT, Grand Bahama — Minister of Tourism the Hon. Obie Wilchcombe told students at the St. George's High School, on April 29, 2016, that he was honoured and pleased to be there with them during their Sports Awards Ceremony because it allowed him to look at the "faces of the future" to see the individuals who will be tomorrow's leaders for The Bahamas.
"Individuals who are today in the school environment, all aimed at making you outstanding citizens," Minister Wilchcombe said.  "You will learn, as life goes on, that everything that you are learning today will prepare you for tomorrow — how you work with people; how you get along with individuals; how you respect individuals; why teachers demand discipline; why you are asked to do things and why you are asked to study; and why you are asked to understand that you will not always win."
Minister Wilchcombe said the latter is an important lesson to learn because, in life, when you learn how to lose you can better prepare yourself to win: it summons you "to get up in the morning and train, give it your best," knowing that there is someone else out there doing the same thing, Minister Wilchcombe said.
Among the achievements recognized that day were the Senior Boys Basketball Champions for Tip Off Classic Rings, Under 20 Boys Two-Times Champions in Volleyball, the undefeated Junior Boys Softball Champions, and the Senior Boys Softball Champions.
Minister Wilchcombe said that although not every student may be an athlete, he or she will have a unique talent.  He encouraged the young people to explore their talents, examine what they are passionate about, pursue those endeavours, and make the country better.
He added that the students should look at the strides The Bahamas has made in a short period of being an independent country, especially on the international stage.  He also pointed out that their principal, teachers and coaches have made selfless, unpaid sacrifices to go the extra mile for them and work towards helping to build the country.
"Then we have mothers and fathers who, although they did not have much, they put it into their children," Minister Wilchcombe said.  "And so, today, you can dream not only of being lawyers and doctors and accountants; you can dream of being aviation experts.  You can dream about being technological experts.  You can dream about being maritime experts.
"You can dream about being anything you want to be; but it begins with you thinking 'Yes, I can. I can be this'; and it is going to require the same amount of dedication that these young men have put into basketball — getting up, preparing, practicing, practicing and practicing."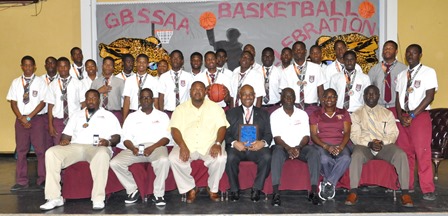 Minister Wilchcombe emphasized that through hard work, they can accomplish many great things and make a difference.
"So, today, I am happy to be here," he stated.  "I am proud to see you, young men, because in our country we need young men who will stand up and lead."
On the teamwork they needed to be successful, he told them, the same lesson of having to work together on the basketball court is the lesson they must uphold in life.
Minister of Tourism the Hon. Obie Wilchcombe (seated, centre) is pictured with school stakeholders and students who received recognition at St. George's High School, on April 29, 2016, during the school's Sports Awards Ceremony.  (BIS Photo/Vandyke Hepburn)