Minister Griffin Thanks Friends of Grand Bahama Childrens Home
| | |
| --- | --- |
| Authored by: | Robyn Adderley |
| Source: | Bahamas Information Services |
| Date: | May 13, 2016 |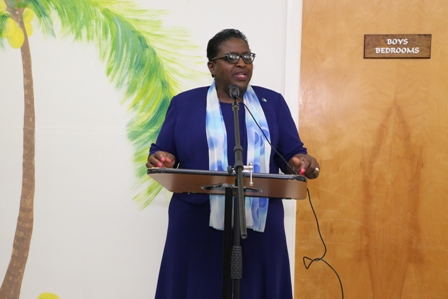 FREEPORT, Grand Bahama – Minister of Social Services and Community Development, the Hon. Melanie Griffin, on Thursday acknowledged and expressed appreciation to all those who contribute to the operation of the Grand Bahama Children's Home.
Quoting the African proverb, "It takes a village to raise a child," the Minister described the donations as "significant," whether it is monetary, time or much-needed items.
She said, "The Ministry of Social Services and Community Development is mandated to provide alternative accommodations for children who have been abused, neglected or abandoned by their parents, guardians, loved ones or strangers. Hence, the need for this home and other residential care facilities which are havens and places of refuge for our children.
"My Ministry gives an annual Grant to the home which we were happy to be able to increase in this current fiscal year; however, you will appreciate that operating the home is a costly venture and therefore it is dependent upon donations from various persons and organizations to supplement this Grant, if the home is to function properly. Many of you here today are involved in such organizations."
The Minister then acknowledged a number of individuals who work tirelessly to assist with the upkeep of the home, which currently has 30 residents, 10 under the age of four. "I believe that each staff member and volunteer has sown good seeds in the lives of our children, many of whom are now upstanding adults who contribute to society. The Home is truly operating under our 2016 Child Protection Month theme, "Protecting Our Children, Protecting Our Future."
Also present for the reception was Minister for Grand Bahama, the Hon. Dr. Michael Darville, who also gave brief remarks.
Following the reception, the Ministers and invited guests planted a pinwheel garden, as a part of the activities for Child Protection Month. This was also done by Her Excellency, Dame Marguerite Pindling, who planted the first one at Government House, in Nassau.
"The pinwheel is another symbol for child protection and depicts the carefree life of happiness and hope of a child," said the Minister in closing.  (BIS Photo/Vandyke Hepburn)