National Development Plan presents a unique opportunity says PM Christie
| | |
| --- | --- |
| Authored by: | Eric Rose |
| Source: | Bahamas Information Services |
| Date: | April 12, 2016 |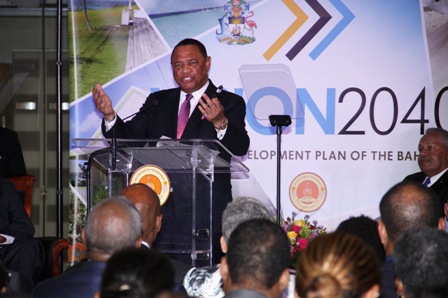 Nassau, The Bahamas — Prime Minister and Minister of Finance the Rt. Hon. Perry Christie said that, in its scope and detail, the State of The Nation Report gives much food for thought and presents a unique opportunity to "fundamentally transform" The Bahamas for the better.
"In the day-to-day business of running government, we have to deal with a raft of issues, most of them requiring urgent attention," Prime Minister Christie said during his presentation entitled "Planning For A New Bahamas", his response to the State of The Nation Report, at the College Of The Bahamas's Harry C. Moore Library, on April 11, 2016.
"The formulation of the National Development Plan gives us a chance to reflect, to think deeply, to address the specifics, and to use the Report as a springboard to a new beginning," he added.  "And so my challenge to you all is this: what can we incorporate into the National Development Plan that will secure the best prospects in life, for that child born this morning at the Princess Margaret Hospital?"
Prime Minister Christie continued and said that his challenge went even further.
"What is the biggest, boldest, most ambitious Vision we can set for ourselves, so that we are not just surviving, not just doing better, but marching towards that common, loftier Goal that will secure our future among the leading countries in the world, for the rest of time?"
He added: "In respect of education: what can we do to ensure that we are the best-educated, most highly-skilled population on earth? What can we do to become the healthiest, 'most well' people on the planet? How soon can we free everyone from poverty? How can we build secure, crime-free communities, where our relationships with our families, friends and neighbours can thrive in an atmosphere of mutual respect, civility and social tranquility?
He further asked the following questions: "How do we ensure that our country is one of the best in the world in which to live, work and play, able to withstand and mitigate the effects of climate change? How do we build an Infrastructure that will serve us well into the 22nd Century? How can we maximize economic opportunities for everyone, to build long-term wealth and prosperity for us all? How best to govern ourselves so that the contract between the People and the Government is one based on mutual trust and respect?"
Prime Minister Christie said that, in answering those questions — in seizing this moment to establish a bold Vision for The Bahamas — all Bahamians can work towards an almost unimaginably bright future.
"There will be those who caution against a "Big Vision," that it's too hard, an imaginary utopia. There will be those who will say that we should work just to put things right. But I say that putting things right, doing things better, is a just a step along a much bigger path," Prime Minister Christie stated.
"A Vision tells us where the path is headed. A Vision guides us as to the best way to get there. And we must be guided by the promise of that Vision, the possibility of what we can be."
He added that Bahamians must not "fall into the trap" of looking at the Present, and limiting their Vision by all that they think they see.
He noted that one of the defining characteristics of what it means to be human is the exercise of Imagination.
"One of the other key characteristics of human beings is that of mass co-operation: to harness the efforts of hundreds of thousands of people to build ships that can sail across the seas, planes that can fly around the world, and rockets that can take us to the moon," Prime Minister Christie said.
"Taking scraps of paper and making it into the most beautiful and creative costumes in the world. With our collective imaginations, and a national co-operation, we can bring about the fundamental changes necessary for the next stage of our development. That is the kind of transformation that we seek."
Prime Minister Christie said that all of this effort is to allow each and all Bahamians to be, fully, who they are — to 'allow each of our spirits to soar.'
"This makes it all worth our while, makes the job essential," Prime Minister Christie said. "Look at where we are now. Consider how far we have come. And together, with our collective imaginations and creativity, we can improve the State of The Nation.
"We can be all we aspire to be," he added.  "This is the beginning of the next stage of our Future."
(BIS Photos by Patrick Hanna)