National Track and Field Championships Open in GB
| | |
| --- | --- |
| Authored by: | Simon Lewis |
| Source: | Bahamas Information Services |
| Date: | April 12, 2016 |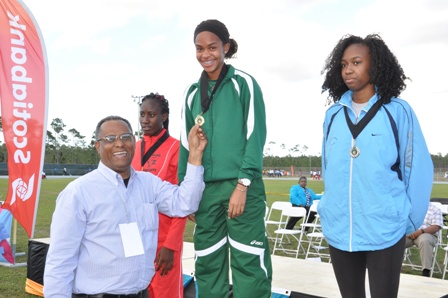 Hundreds of athletes from throughout the Commonwealth of The Bahamas are currently in Grand Bahama participating in the 2016 Bahamas National Track and Field Championships.
Minister for Grand Bahama, the Hon. Dr. Michael Darville officially welcomed the young athletes to Grand Bahama during the official opening ceremony at the Grand Bahama Sports Complex, April 11, thanking the coaches and teachers for bringing some of the best young athletes from across the country to the island.
He assured all that the Government of The Bahamas remains committed to supporting and investing in young people in sports and that they are pleased to be a part of the sponsorship of the championships.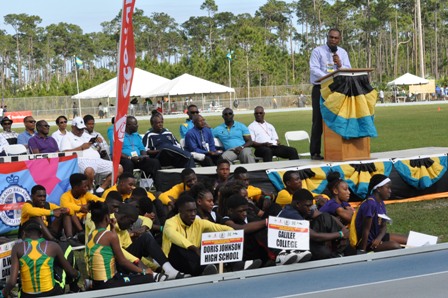 "Since coming to office, this administration through the Ministry of Youth, Sports and Culture, my Ministry and our private sector partners on Grand Bahama, have worked diligently with community leaders, coaches and representatives of the Grand Bahama Athletic Association to coordinate sports programs on the island, upgrade our sporting facilities; and today I am elated to announce that funding has been allocated for major upgrades for the Grand Bahama Sports Complex which started two weeks ago," he informed.
He told the athletes to "put your very best efforts forward as you compete in friendly competition and even after this event is over, continue to run, continue to soar, continue to pursue your goals and dreams and never stop. Remember the sky is the limit. The world is yours to conquer."
Athletes from as far south as Inagua are in Grand Bahama for the three-day event. Islands like Abaco, Long Island, Cat Island and New Providence are well-represented at the Championships.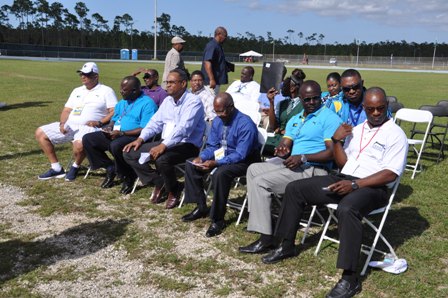 The participating schools are: Abaco Central High, Abraham Bay High School, AF Adderley, Agape Christian School, Anatol Rodgers, Arthurs Town, Bishop Michael School, C R Walker, C. C. Sweeting, C.H. Reeves, C.V. Bethel, C.W. Saunders, Central Andros High, D.W. Davis, Doris Johnson High School, Eight Mile Rock High, Galilee College, Gateway Christian School, Government High School, Grand Cay, Inagua All Age School, Independent Athlete, L.N. Coakley, L.W. Young, Mangrove Cay, Mary Star of the Sea Catholic Academy, Moores Island, NGM Major High School, Noble Prep, North Andros High, North Eleuthera High School, North Long Island High, Preston Albury High School, Queen's College, R.M. Bailey, S.C. Bottle High Abaco, S.C. McPherson, San Salvador High School, Sister Mary Patricia Russell, Jr., South Andros High School, Sir Jack Hayward Jr. School, Sir Jack Hayward Sr. School, St. Andrews, St. Anne's School, St. George's High School, St. John's College, St Paul's Methodist College, Sunland Baptist Academy, T.A. Thompson, Tabernacle Baptist Academy.