The Commission on the Status of Women 2016 Trip
| | |
| --- | --- |
| Authored by: | Ministry of Social Services and Community Development |
| Source: | Ministry of Social Services and Community Development |
| Date: | April 22, 2016 |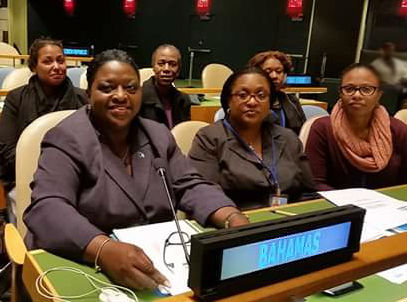 The Minister of Social Services & Community Development, the Honourable Melanie Griffin, MP led a delegation to the 60th  Session of The Commission on the Status of Women.  The session was held at the United Nations Headquarters in New York from the 14th to 24th March 2016.
The purpose of The Commission on the Status of Women (CSW) is to shape global standards on gender equality and empowerment of women. The Chairman of CSW, His Excellency Antonio de Aguiar Patriota,said "The 60th Session is the place  for sharing experiences, best practices and lessons learned.  Most importantly, this is the space for agreeing to key actions to be taken by a range of stakeholders. . . . ."
At the meeting, Minister Griffin informed the assembled country representatives of The Bahamas' progress towards gender equality. She also attended a side event on Gender-Based Violence which was hosted by the Bahamas Permanent Mission.