Three Sailors Awarded for Efforts to Sustain Bahamian Tradition
| | |
| --- | --- |
| Authored by: | Kathryn Campbell |
| Source: | Bahamas Information Services |
| Date: | May 3, 2016 |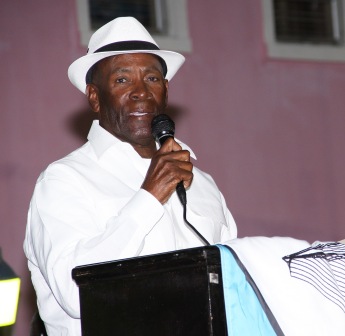 EXUMA, Bahamas – The National Family Island Regatta Committee recognized three Bahamian giants for their contribution to the development of sailing Saturday, April 30th.
Efford Kemp from Black Point, Steve Smith who hails from Staniel Cay and Sheldon Gibson, a native of Crooked Island, received trophies and were clad in regatta jackets during an awards ceremony on the grounds of the Administrator's Complex Regatta in George Town. The event officially ended the 63rd National Family Island Regatta.
Mr. Smith is a renowned sloop builder and skipper; Mr. Kemp is a skipper and one of the oldest competitors in the regatta and Mr. Gibson is a sailor, designer, boat builder and teacher.
Dignitaries on hand to witness and celebrate with the honorees included Prime Minister Perry Christie; the Hon. Obie Wilchcombe, Minister of Tourism; the Hon. Shane Gibson, Minister of Labour; the Hon. Hope Strachan, Minister of Financial Services and Local Government; the Hon. Alfred Gray, Minister of Agriculture and Marine Resources and the Hon. Anthony Moss, Parliamentary Secretary. Other officials included Rena Glinton, Permanent Secretary and Neil Campbell, Administrator. Members of the National Family Island Regatta Committee led by Commodore Danny Strachan, family and well-wishers were also present. The Royal Bahamas Police Force Band provided entertainment.
In his remarks, the Prime Minister said because significant revenue is earned from regattas it is important to continue to examine what it takes to make them happen and to incentivize the people who participate in them.
Responding to a question put to him by a sailor as to whether $3,000 is sufficient for "A" Class regatta winners, he said, "It's something we must continue to look at with a view to recognizing that it should be more than $3,000.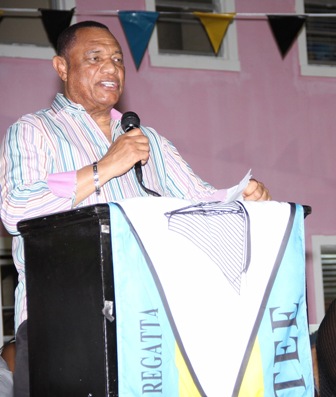 "It takes a lot of effort, energy and expense to bring it about. We must match that sacrifice by the sailors to ensure that we continue to lift to a level that is sufficient to cause young sailors to say this is worth my while. The people who are being honored, most of you who are sailing today do not do it for the love of money you do it because of the love of sailing."
The Prime Minister said more must be done to ensure that the sailors' skills are sharpened and young people are involved to allow more competition in the international arena.
He congratulated the winners of the 63rd Regatta namely the Lady Muriel in Class A from Staniel Cay, the oldest named boat; the Susan Chase in Class B from Long Island and the Whitty K in Class C also from Long Island.
Seventy-seven boats competed in the regatta making it the largest one in Elizabeth Harbour. Commodore Strachan noted the "superb" courses and "spectacular" sailing throughout the event. "The tradition of regatta lives on," he said. The Commodore thanked the staff of the participating ministries, organizers, sponsors, sailors and committee members who contributed to the success of the regatta.  (BIS Photos/Patrick Hanna)