The Hon Renward Ricardo Wells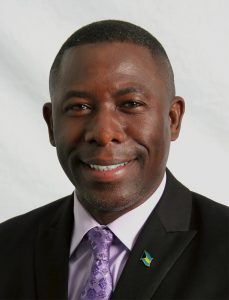 The Hon Renward Ricardo Wells
Minister of Transport and Local Government
Member of Parliament (FNM)
Transport and Local Government, Ministry of
Manx Dockendale Corporate Centre (3rd Floor)
(Campbell Maritime Centre)
West Bay Street
P.O. Box N-7132
Nassau, Bahamas
Phone: (242) 328-2701/5 or 397-5501
(242) 328-2700 (Local Government)
Fax: (242) 328-1324
Biography
Renward Ricardo Wells was born on February 23rd, 1970 in Nassau, Bahamas, to Leoma Flowers and William Wells. As an infant he lived with his paternal grandparents in Deadman's Cay, Long Island, and at age 3 moved to live with maternal grandparents in Driggs Hill, Andros. In 1979 he joined his mother and stepfather in Grand Bahama and six years later relocated to Nassau to reside with his father.
He received his early education in Andros, Grand Bahama and New Providence, and is a 1987 graduate of R.M. Bailey Sr. High School where he served as Head Boy in his senior year. He attended Oral Roberts University, Tulsa, Oklahoma on an athletic scholarship, and was awarded a Bachelor's Degree in Mechanical Engineering in 1995. Renward undertook two years of study at Regent University's Law and Divinity Schools in Virginia Beach, Virginia.
An elite athlete, Renward was a member and captain of several Bahamian World Olympic athletic teams. He was the Bahamian record-holder in the 100 meters (1995-2006) and 60 meters (1997-2010) and a member of the record holding 4×100 relay team (1993-2012).
In 2003, Renward was engaged in the Bahamas Public Service as a Mechanical Engineer, a post he held until his resignation to pursue elected office. He was active with colleagues in forming the Bahamas' Professional Engineers Board.
Renward has a long career as a political activist being a founding member of the National Development Party (NDP) in 2008. He was first elected to Parliament as a Member of the Progressive Liberal Party in 2012, but abandoned that Party for the Free National Movement in late 2015. He was appointed Leader of the Opposition Business in the House of Assembly in 2016. He presently serves as the Minister of Agriculture and Marine Resources and Leader of Government business in the House of Assembly.
Renward and wife Sarah (nee Adermann) are the parents of six children.